ProForm Pro 2000 Treadmill Review
If you're getting into running and want an excellent treadmill, the ProForm Pro 2000 is a fantastic choice. For those just starting with a home gym, this ProForm treadmill is a perfect option as the entry-level model in the company's premium Pro series collection.
I'll review the pros and cons of the Pro 2000 and give my honest opinion on its performance.
ProForm Pro 2000 Treadmill Overview
The iFit-powered Pro 2000 treadmill's 10″ full HD touchscreen allows you to adjust the treadmill's 12% running deck incline and -3% decline.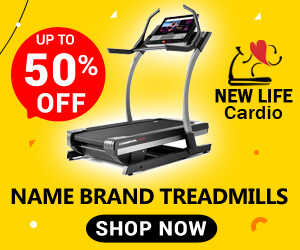 Aside from the built-in fan for ventilation, the 20″ x 60″ running deck on this tread features Rebound cushioning to ease the strain on your hips, knees, and ankles as you work out. This treadmill lets you run or walk faster and burn more calories. It also allows you to train your glutes and quadriceps by simulating a downward slope. With its commercial-quality construction, the Pro 2000 can handle any workload.
If you want to get in shape and lose weight but don't want to spend more than $1,500, the Proform Pro 2000 is an excellent alternative because it's a versatile treadmill that can accommodate your needs whether you choose to power walk, jog, or run. You can fold up this treadmill when not in use to save room. 
The Pro 2000 comes with a 30-day iFit trial. You can watch live studio sessions led by trainers or on-demand destination classes on the 10″ HD touchscreen.
Specifications
3.25 CHP Mach Z Motor
20″ x 60″ Tread Belt
10″ Smart HD Touchscreen
0-12 MPH Automatic Speed Control
-3 to 12% Automatic Incline Controls
Rebound Pro Cushioning
Dual 2″ Speakers
CoolAire Workout Fan
Folding SpaceSaver Design
ActivePulse Heart Rate Technology
30-Day iFIT Family Membership Included
300 Lb. Weight Capacity
Features
The 3.25 CHP Mach Z Commercial motor provides durability, strength, and speed, making it ideal for regular runs. From 0 to 12 miles per hour, it will meet and beat all critical challenges.
Change the incline or decline from -3% to 12% to make your workout more challenging. The 15% incline will provide resistance, toning different muscles in your lower body, while the decline will give you the natural feel of running outside.
Although 55 inches is the standard length for home treadmills, 60 inches or more is expected in commercial gyms. Therefore the 20 by 60-inch track is plenty long. It's also made to decrease the amount of damage the repeated pounding might have on your knees and joints using ProShox Cushioning. The speed and incline/decline automatically go up and down to meet each workout's or terrain simulation's needs. Large rollers help reduce the belt's noise output and extend its life. 
The bars feature touch sensors that can be used to track heart rates. Even though wireless monitors provide more precise data, the grip sensor will still give you a reliable readout within your range.
Functionality
The ProForm Pro Treadmill series track is impressive at 60 inches in length and 20 inches in width. A typical home treadmill is around 55 inches in length.
With the steep 3–12% incline and decline, you may be able to work out specific muscle groups. The fact that iFit is going out of business is good news for runners who like to run outside.
The space-saving and easy-lift assist technology make it easy to lift and move the deck up into a vertical position and out of the way.
Since it can support up to 300 pounds, it is safe and reliable for most people.
Console
Your workout data, including distance, pace, projected calories burned, heart rate, and time spent exercising, can all be viewed clearly on the 10″ HD touchscreen of the ProForm Pro 2000. It's also a portal to many trainer-led films, both those stored locally and those. You can connect your smartphone or another Bluetooth device to the 2-inch speakers on the new ProForm Pro 2000 and those available through your iFit membership.
You can connect your smartphone or another Bluetooth device to the 2-inch speakers on the new ProForm Pro 2000. The console also features a built-in fan for cooling.
Workout Programs
Many different and varied training courses are included with the Pro 2000 to keep your fitness level from plateauing. It has 50 training plans, including incline, speed, high-intensity calorie burn, and mixed workouts.
The Pro 2000 has an iFit membership for free for a year and 50 built-in routines. Hundreds of on-demand workouts created by professional personal trainers worldwide are available through the iFit program (outdoors or in-studio). As you follow the trainer's routine, the incline and decline will adjust automatically. 
The software gives users access to Google Map workouts so that they can run on any surface they can get to through Google Maps. If you want to get stronger and more toned, your selected trainer will be a never-ending source of motivation and ideas.
Is the ProForm Pro 2000 Worth It?
If you're starting or have some running experience, the ProForm Pro 2000 is a solid choice. Regarding acceleration and incline climbing, the 3.25 CHP Mach Z motor is more than up to the task. It's more comfortable and sturdy than your average home treadmill because of the greater belt size. The 50 built-in fitness programs in the iFit app will keep dedicated users on their toes.
The EXP 10i from NordicTrack has a similar price and is nearly comparable in every other way except for a slightly more powerful motor.
If you want the help of a trainer but are on a medium budget, the Pro 2000 is a fantastic option. However, the Smart Pro 5000 and Smart Pro 9000 are worth checking out if you need greater processing power and larger displays. There is a price increase, but the benefits are more significant.