NordicTrack EXP 14i Treadmill Review
The EXP 14i is a mid-range treadmill by NordicTrack. It has a powerful motor and an HD touchscreen console with iFit streaming features. People can get in some extra workout variation by training downhill, thanks to a decline of up to 3%. In general, I think this treadmill would be a fantastic option for someone seeking a moderate level of both console capabilities and performance.
This review will look at the NordicTrack EXP 14i in detail, including its many features and specifications.
NordicTrack EXP 14i Treadmill Overview
A treadmill recommended by iFit for everyday exercises, shared use, and longer runs is the Nordictrack EXP 14i, which was released in 2022. This iFit-enabled treadmill has a large 14-inch full-HD touchscreen for watching live or on-demand iFit trainer-led programs. The EXP14i has a standard 12% incline, but it also has a -3% decline, which is not found on many treadmills that cost less than $2,000.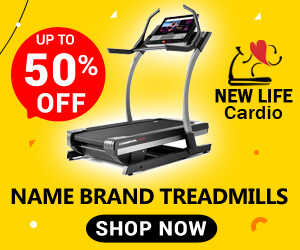 With a free iFit membership for 30 days, you can try out the benefits of interactive personal training with Live Trainer Control and AutoAdjust. These features let your trainer sync your treadmill with the class in real time so that it responds to changes in pace, incline, and decline.
The EXP14i treadmill is a great choice if you want to simulate both running uphill and running downhill. This treadmill allows for positive inclines of up to 10 percent and negative inclines of up to 3 percent to mimic running downhill and develop the glutes and quads, respectively.
The EXP 14i's large 20″ x 60″ running deck is cushioned to absorb impact and support users up to 300 pounds. This reduces impact on the knees, hips, and ankles by 30%. This treadmill is built to last through mild to heavy use thanks to its sturdy construction and a high-powered, self-cooling 3.5 CHP engine that allows for speeds up to 12 mph.
The NordicTrack EXP 14i has a built-in fan to keep you cool, and its speed can be adjusted automatically depending on how hard you're working out. Folding treadmills like this one have a deck that can be folded up out of the way when they are not in use.
The Nordictrack EXP 14i is a great choice if you want a fully-featured treadmill at a reasonable price that will help you achieve your walking, hiking, or running fitness and weight loss goals.
Specifications
3.5 CHP smart-response self-cooling motor
0-12 MPH Speed Control
14" Smart HD touchscreen
20" x 60" commercial tread belt running deck
3% Decline – 12% Incline capacity
ActivePulse™ Cardio Cruise Control
AutoAdjust™ Speed & Incline Control
FlexSelect™ Cushioning
Automatic Trainer Control
Includes integrated fitness tray for holding small accessories and devices.
SpaceSaver® Design with EasyLift™ Assist
AutoBreeze™ Workout Fan
30-Day iFIT Family Membership Included
Weight Capacity: 300 lbs.
Features
If you're looking for a treadmill with the most bells and whistles, go no further than the NordicTrack EXP 14i. Its 20-by-60-inch running deck is suitable for taller runners. The console contains a built-in fan and speakers for streaming audio. Another benefit is FlexSelect deck cushioning. Those used to running on the street will like being able to firm up the deck for a pavement-like sensation. Those focused on rehab (or who have joint pain or stiffness) will love being able to soften the deck.
In terms of resistance levels, this model has a maximum incline of 12% rather than the more typical 15%, but it's one of the few units capable of a tiny decline setting of -3%. Again, these treadmills are created with budgets in mind. A steeper incline burns more calories, but a 12% incline at 12 mph is enough for most individuals.
All the new ways to track heart rate are quite useful. Those wanting this type of training will love this model's EKG Grip Pulse sensors, Bluetooth heart rate capabilities, and ActivePulse Cruise Control.
Functionality
The EXP 14i has a strong motor for a home treadmill. The 3.5 CHP Smart-Response motor allows you to run, jog, or walk at speeds up to 12 mph, making it ideal for high-intensity interval training.
No matter if you plan to jog or run hard on your home treadmill, it is essential that the deck be well-built.
The EXP 14i has an automatic trainer control and a decline/incline range of 3 to 12%. Runners who are looking to work for their workout will notice that the incline and decline have a substantial impact on calories burned.
Home running still produces sweat, which is why this treadmill has two built-in AutoBreeze workout fans.
Console
This machine's 14-inch HD Smart Touchscreen places it squarely within the sweet spot for the vast majority of consumers. It's ergonomically shaped to let runners switch programs quickly and painlessly, and it connects with iFit so you can work out alongside real-time coaches. By using Google Street View, runners may virtually visit cities and countries all over the world.
Another sign that we are living in the 21st century is that treadmills can now be set up to help people keep their heart rates in a certain range. This is a terrific approach to a personal exercise program for anyone trying to lose weight or enhance their sports abilities.
Like the rest of NordicTrack's products, the EXP 14i can stream music wirelessly to a set of two-inch digitally amplified speakers through Bluetooth. Additionally, having the option to use a different heart rate monitor than the EKG pulse sensors on the handlebars is important, as is the flexibility to link instructor-led training to headphones.
Workout Programs
Both NordicTrack and ProForm, its brother brand, have come under scrutiny in this space. The question mark hangs on the success of the company's iFit fitness app. With over 17,000 exercises and counting, iFit's library is one of the largest of its kind and a great interactive application with both live and on-demand training programming.
There are many different kinds of runs led by instructors, from short trips around the neighborhood to longer cross-country trips. These trainers allow you to adjust your machine's resistance from afar, and the software is compatible with every model from NordicTrack and ProForm, as well as a mobile app you can take with you anywhere.
But what if you just don't feel like shelling out $39 every month? Is there an alternative to iFit if you'd prefer not to use it or if you've already tried it and don't like it? The NordicTrack EXP 14i is similar to previous models in the same line in that it can be used manually without iFit. However, unlike those other models, it has no pre-installed programs and the screen is incompatible with any other fitness apps. It's true that one can always use Bluetooth headphones or park the treadmill in front of a smart television, but that seems to defeat the purpose of all the other neat features.
iFit, which we reviewed here, is a great option to consider if you're looking into models like this. If you think you could have fun using the program, go ahead and install it. These high-end versions may be overkill, though, if all you need is a basic treadmill.
Is the NordicTrack EXP 14i Worth It?
The Nordictrack EXP 14i is a great addition to the series. It has a bigger display and more ways to train your heart rate. If you can live with it's much bigger size, the NordicTrack Commercial 1750 is a better deal. However, when it comes to home exercise equipment, bigger isn't always better.
Still, the new NordicTrack Commercial 1750 is the better choice for the same price in 2022 because it has been updated. The EXP 14i's only benefit is its reduced size, making it easier to store. The new 1750 has a 14-inch screen that can be moved and tilted, 2.5-inch rollers, faster Wi-Fi, and more processing power. It's true that the 1750 is a much larger machine than the 1650, weighing in at 340 pounds in the box. If that's the case, the EXP 14i is still a fantastic treadmill because it's compact and lightweight.